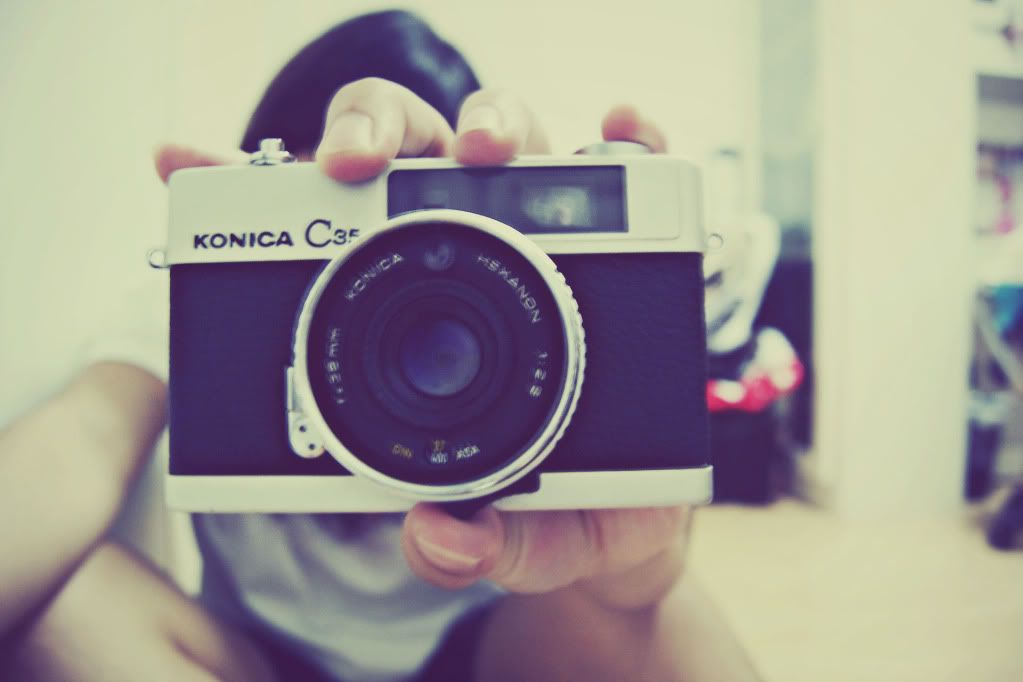 I believe you guys have yet to meet.
Everyone, this is (uh.. I'VE NOT NAMED THIS CAMERA YET! HOW HOW HOW?!). Camera, this is everyone.
Can I just rave about this little thing of mine for a bit? Heehee.
A Konica C35. Made in 1968 with 38mm f2.8 four-element Hexanon lens, this camera was one of Konica's more successful models back in the days, and I can't be happier sharing my find -- my best yet! Welcome to the family!
So lets see..
I have a 1968 Konica C35, a (I have no idea what year it was manufactured since this was my dad's. But he has been using it like even before he got married to Mom??) Praktica with MC Carl Zeiss Jena lens, and a 1998 OneStep CloseUp Polaroid camera, which, sadly, I'm not able to use now because PX films cost a bomb, like SGD$47 per pack of 10 shots?
Meaning one Polaroid photo would cost $4.70. HELLO YOU CAN PAY ME $5 TO SELL 'EM MAN.
And I don't like it when people call a Fujifilm Instax a Polaroid omggggg there's a difference my friends. Yeah I know its dumb to get worked up over names but there really is a difference! Polaroid is a brand name itself, and an established one at that. So I guess calling an Instax a Polaroid is kind of an insult to the brand. Hm..
But yeah I'm wondering if I should get an Instax. Not Mini or the Mini 25, but the Instax 210. The hugeass one which would prolly be rather heavy to carry around?
(On a side note, SHINee used it on their reality show
Yunhanam
)
Main reasons being I would NEVER be able to afford shooting with my Polaroid anymore. Even when I met Jaye at Orchard Central's Open Bazaar (he's the owner of the website I often visit for sales of vintage cameras/Polaroids/photography accessories), he told me he could sell me the film but it would be better if I saved up and bought myself film cameras.
I hate the fact that photography is such an expensive hobby :(
Next time, I'll marry a husband whom is rich enough to support my hobby!! *evil laughter*